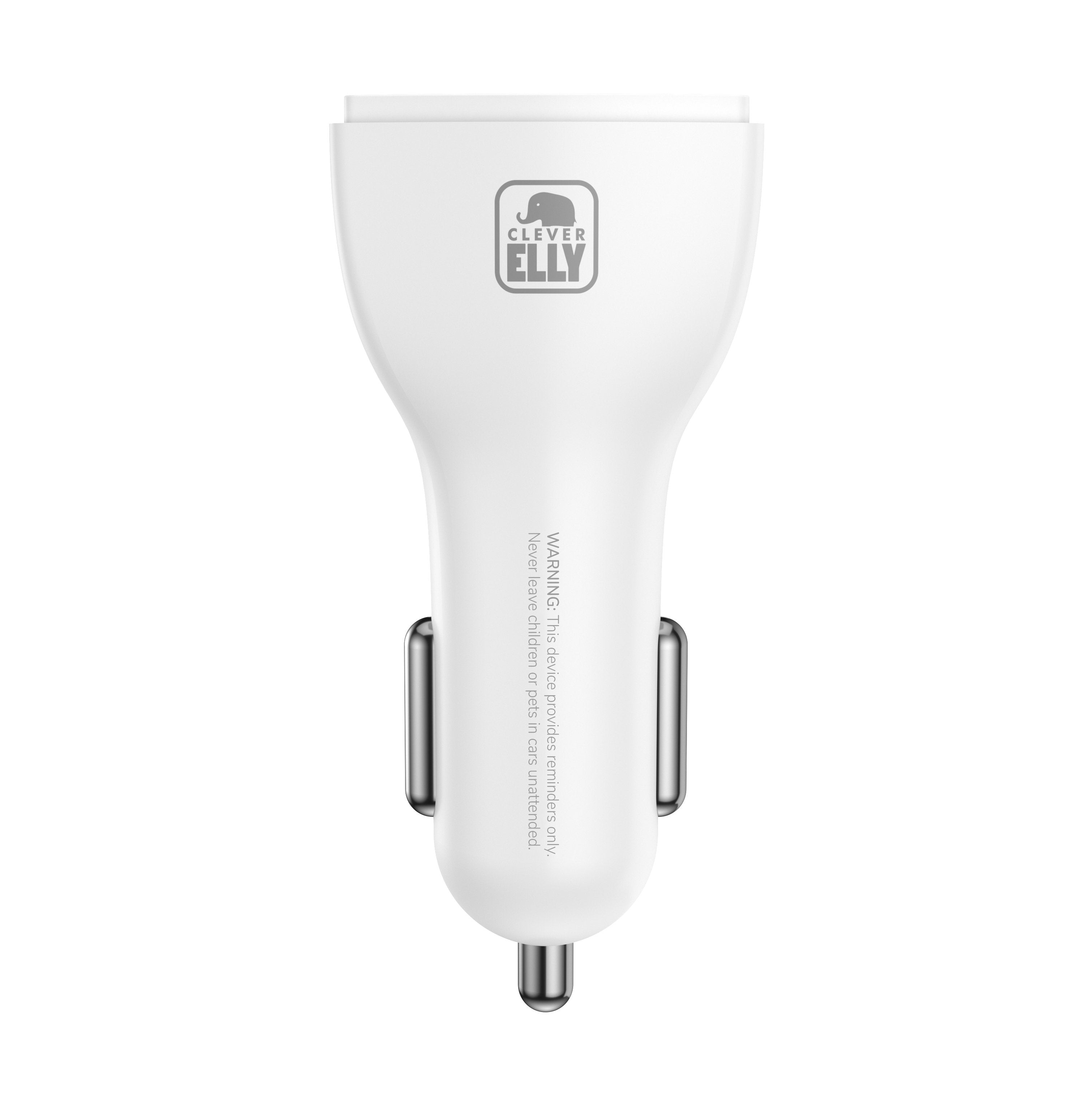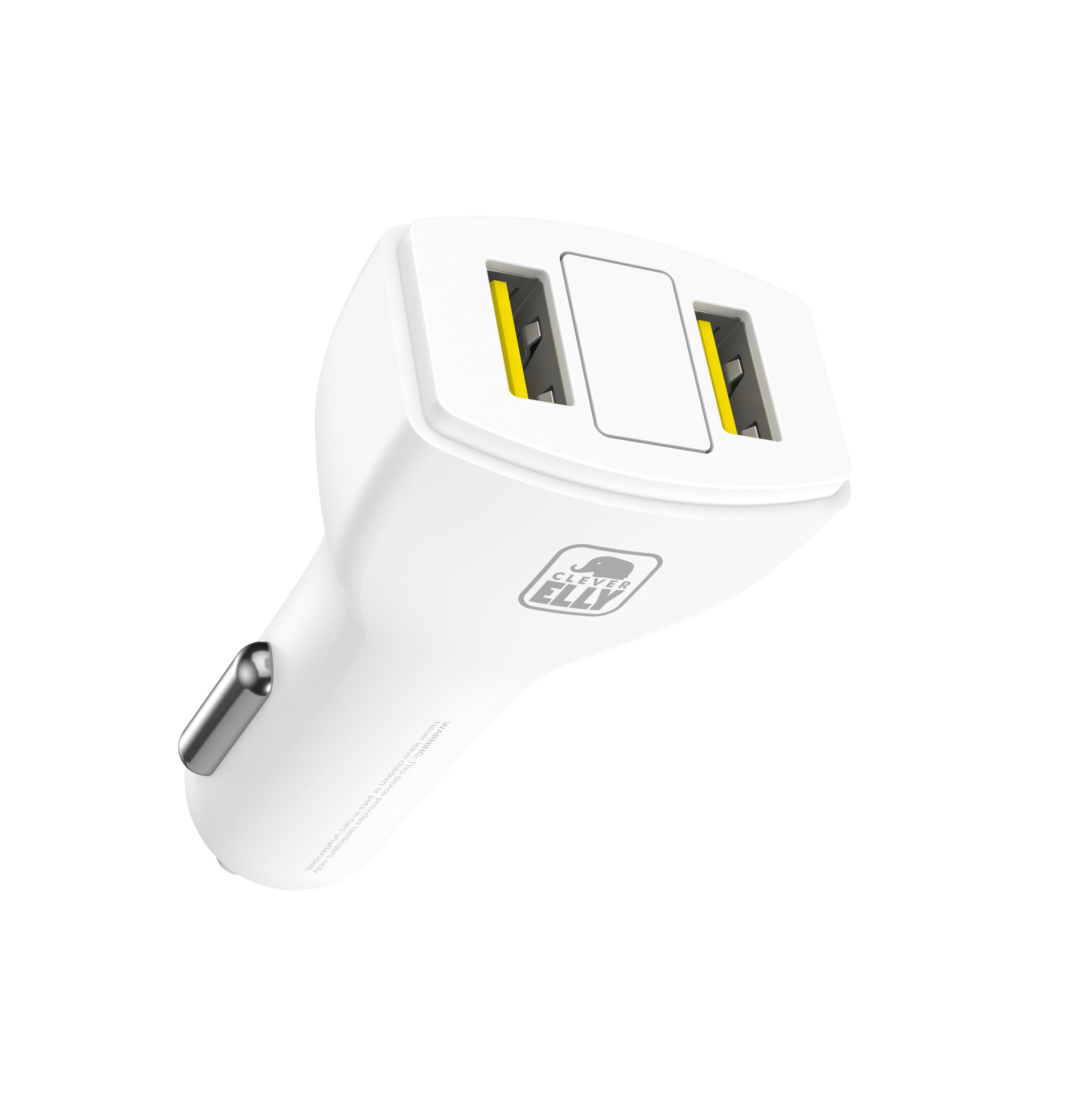 A newest version of the Clever Elly (Single Pack).
This device is compatible with all cars. For those cars that do not turn power off to their power outlets, we have included a FREE door sensor, to trigger Clever Elly every time the door opens. 
Clever Elly™ reminder device, for you or your significant other.
Package Contains:
Clever Elly Device
Wireless Battery Powered door sensor (optional accessory, for use in cars that do not turn power off to the 12V socket)
A better way to remind yourself
Sleep deprivation, distraction and stress can all reduce the function of our short-term memory. There have been many incidents in Australia and around the world where parents or carers, believing a child to be elsewhere and safe, have unknowingly left a child in a car with tragic outcomes.
Experts recommend to take procautions by modifying routine behaviours with actions that will intentionally remind the driver to check the back seat before exiting.
Clever Elly offers a simple technology to automate this routing and help build a reliable habit.

HOW TO USE
Life-Savingly Simple
Step one
Plug in Clever Elly into a power port (marked 12V or cigarette) in your car, near the driver.
Step two
Now Clever Elly will remind you to check the back seat every time the car is turned off and door is opened.
Step three
After a while, you will develop your own habit to always check the back seat before exiting.
PRODUCT HIGHLIGHTS
Dual USB Charger
All cars have a cigarette lighter, but they are usually occupied by cell phone or a dashcam chargers. So we have built Clever Elly with a dual USB charger.
Different Reminders
We know people tend to eventually tune out to repeating alerts, so we have included ten different pre-recorded alerts that play at random.
Pioneered by Parents
We've each felt the joy and burden of raising children, and the overwhelming need to keep them safe and protected.
No Setup Required
We wanted a device that doesn't require complex installation or setup. Clever Elly can be easily powered by any car's existing features.
Simple & Inconspicuous
We have intentionally made it simple and inconspicuous. It is designed to live inside your car and work autonomously.
Sleek Design
Clever Elly incorporates a modern, timeless and minimalistic design that blends in the interior of any vehicle, no visually disruptive buttons or screens.
DOOR SENSOR
Now compatible with all cars,
via optional door sensor (included)
WHAT CARS NEED THE DOOR SENSOR?
Door sensor is now bundled with all Clever Elly devices
Clever Elly is designed to be triggered when the driver turns off the car and the power cuts out. This has traditionally been the case for most cars, but some of the newer cars delay cutting the power to the circuit, long after the driver has departed. This behaviour fails to provide the needed trigger for Clever Elly to play the timely reminder for the driver to check the back seat before leaving the vehicle.
Now these cars can utilise a small battery powered wireless door sensor that can attach to any internal panel of the car and provide the missing trigger, at the time the driver opens the door to get out of the car.
All Clever Elly units (Model CE-S4 and later) are compatible with the wireless door sensor and are included with all sales for convenience and versatility. It's use is completely optional, and only necessary in specific types of cars that need it.

For you and others close to you
Caretakers looking after your child irregularly and outside of their typical daily routines are especially vulnerable to getting unintentionally distracted. Clever Elly provides an extra layer of protection in the vehicle, regardless of who is in control.
Your nanny
Your brother
Your dad
FREQUENTLY ASKED QUESTIONS
How does Clever Elly work?
Simply said, it's a talking car charger. It has a little speaker built in and a small rechargeable battery. When the unit detects that the power has been switched off, it plays one of the pre-loaded messages to remind the driver to check the back seat.
Will it charge my iPhone/Android phone?
On top of it's primary reminder function Clever Elly doubles up as basic but useful car charger that will charge any USB powered device.
Can I record my own messages or change the volume?
No. We have intentionally made the unit simple to use and built it without any buttons or apps or anything that would make it harder to use for those that are less tech savy. We have selected the volume to be optimal to be heard in busy environment, yet not too loud to wake up and scare your kid at the end of every drive.
We are confident that you will love your Clever Elly and offer a solid money back guarantee for anyone who is not happy with their purchase.
What if it does not work with my car?
Clever Elly should work with most cars (especially CE-S3 model). However if you find some sort of incompatibility or simply not happy with your purchase in any way, we will happily offer you a refund.
Can I buy Clever Elly as a baby shower gift?
Clever Elly makes a very thoughtful, inexpensive and practical gift for both parents, carers, expecting parents as well as a practical device to remind all people to learn the habit of checking the back seat for whatever precious or valuable that happens to be there.
What if my car does not have a cigarette lighter port?
Although rare, but there are some new car models have started to phase out the port and replace them with extra USB ports instead. We recommend trying USB to 12V adapter accessory for those. They are relatively inexpensive and can be found online or in your local specialist electronics store.
Where will my order be shipped from?
We are based in Australia and hold stock distribution centres located in the USA and China. There is also a network of authorzed resellers that may hold stock locally near you. Whenever possible, we will do our best to minimize the shipping times and send out stock from the most practical location near you.
I love your product and want to work with you to help bring this to my community?
We love to hear from like minded people from all over the world. Feel free to reach out to us with any suggestions or questions you might have. We will do our best to support you.
Other products and bundles
Consider some options and accessories